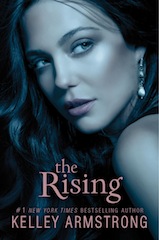 Things are getting desperate for Maya and her friends. Hunted by the St. Clouds and a rival Cabal, they're quickly running out of places to hide. And with the whole world thinking they died in a helicopter crash, it's not like they can just go to the authorities for help.
All they have is the name and number of someone who might be able to give them a few answers. Answers to why they're so valuable, and why their supernatural powers are getting out of control.
But Maya is unprepared for the truths that await her. And now, like it or not, she'll have to face down some demons from her past if she ever hopes to move on with her life. Because Maya can't keep running forever.
The Rising by Kelley Armstrong is the third and final installment in the Darkness Rising trilogy. Maya, Daniel and Corey are on the run and quickly find out that they need to join forces with the teens part of Project Genesis.
Community content is available under
CC-BY-SA
unless otherwise noted.